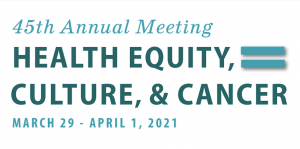 The ASPO Annual Meeting brings together the cancer prevention and control community to promote the exchange and dissemination of information and ideas; to identify and stimulate research areas; and to foster the implementation of programs in cancer prevention and control. To help inspire and propel cancer prevention research and intervention toward achieving health equity, we are delighted to announce that the theme of the 45thASPO meeting will be Health Equity, Culture, and Cancer.
Due to the continued COVID-19 pandemic, the 45th Annual Meeting will be held virtually at a reduced cost. The virtual meeting will include the same dynamic content with multiple opportunities for interaction, discussion, and an exchange of scientific ideas.
2021 Symposiums:
Structural Racism, Discrimination, and Cancer
Co-Chairs: Scarlett Lin Gomez, MPH, PhD, UCSF Helen Diller Family Comprehensive Cancer & Lisa Newman, MD, MPH, Weill Cornell Medicine
The Many Shades of Unequal Access to Cancer Prevention & Care
Co-Chairs: Melissa Simon, MD, MPH, Northwestern University & Otis Brawley, MD, Johns Hopkins University
Novel Remote Technologies that Bridge the Digital Divide
Chair: Karen Basen-Engquist, PhD, MPH, UT M.D. Anderson Cancer Center

Impact of COVID-19 on Inequities in Cancer Prevention & Control
Chair: Elena Martinez, PhD, UCSD Moores Cancer Center & Larry Kushi, ScD, Kaiser Permanente Northern California

The abstract submission deadline has passed. Notifications were sent on January 26.